My 2011 Ram 3500 dually has been a great truck. Much of what I did to it initially was based around what L.T. did with his
Project Built for towing
. I bought this truck in November of 2011 with 29K miles on it and I completed the delete before the truck had 40K on it. Many people are scared to do this due to losing your warranty, but in all honesty if you research any history on problems with the modern diesels, whether it be Ford, Chevy or Dodge, all the problems are usually found within the emissions system. My list of modifications are as follows:
DPF/Cat delete
EGR Delete
H&S tuner with custom tow and transmission tunes from Anarchy diesel
Water/methanol injection (I have a thread on here somewhere about the install but cannot locate it)
5" turbo back exhaust
upgraded intercooler
cold air intake
I have used this truck mainly for towing a 45 foot Cyclone toy hauler to motorcycle races throughout the west. Dry, this trailer has a claimed weight of 14,500 lbs. When fully loaded with water, bikes, gear and everything else I am somwhere between 17,000 to 18,000 pounds. I have never been short on power to pull my trailer up any grade, but EGT's have always been a battle. I will be up front and honest that I have not been a little hard on this truck, but it has always been reliable.
Well after almost 5 years of hard use, I caused some major damage between Fillmore and Beaver......aka the Filllmorebeaver area on my way to a race in Caliente, Nevada. The last couple of trips, the truck seemed a little down on power but the truck was definitely working harder on this trip. We had a head wind the entire way and it just struggled do maintain pull on even some of the smallest grades. Just about the time I was going to make that climb after Fillmore my coolant quickly spiked to 247 and I backed out of it. The temp came down quickly and when I stepped back on the gas I heard the dreaded knock. I was able to limp it to Beaver and thank God for good friends, because I had one traveling a few minutes behind me that got somebody to bring me his spare truck so we could get to the race.
While waiting in Beaver I went the spectrum of what it could be, since I did not yet know what had happened. I knew the knock was coming from high in the motor and was not a bottom knock, so I was hopeful that it may have just been an injector. This video does not show the sound very well, but you can hear the knock.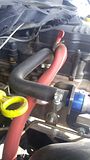 Here is one for the Chevy guys. Duramax recovering a Cummins. Technically there is towing happening, so it is ok that the tow mirrors are out.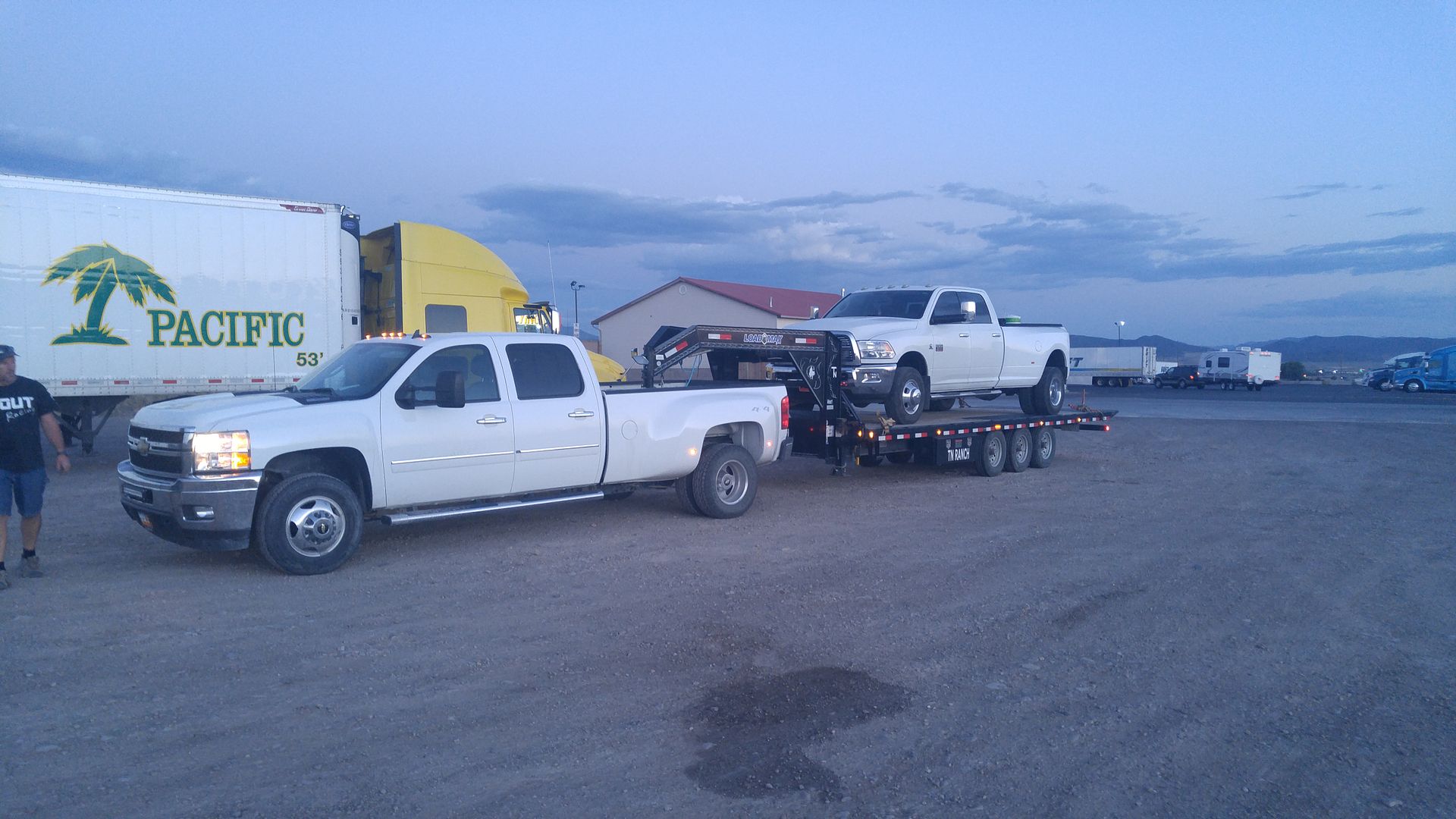 I got the truck home and my friend who has done all the major work on this truck started the diagnosis. We ran a diagnostic where we killed each injector individually. When we killed the #6 injector, the sound pretty much disappeared...........pretty much........not entirely. Hopeful that it may only be an injector he set about swapping the #1 & #6 injecors.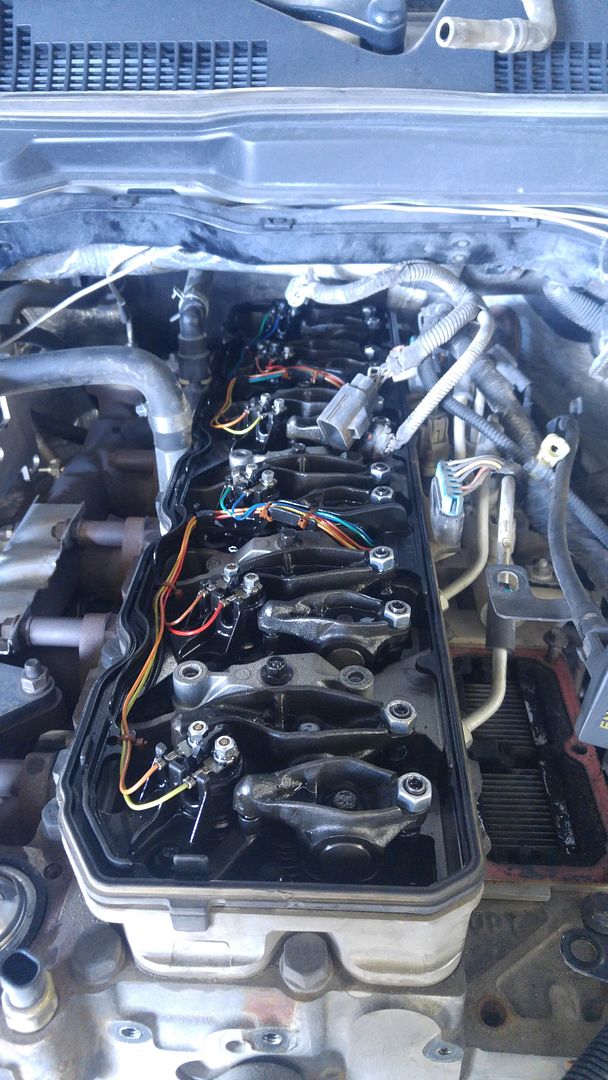 Well, this is where our luck ran out since the knock did not follow the injector and I now feel my wallet starting to get so light it will float like it is in zero gravity. Since it is the #6 cylinder making all the noise, there really is no other choice than to pull the motor to get the diagnosis done.
With the head pulled, there was nothing that immediately jumped out other than the #6 piston and valve area had more carbon build up than any of the other cylinders.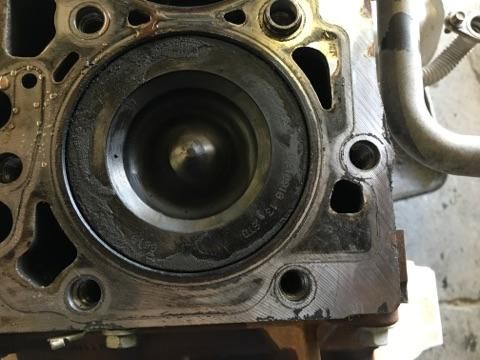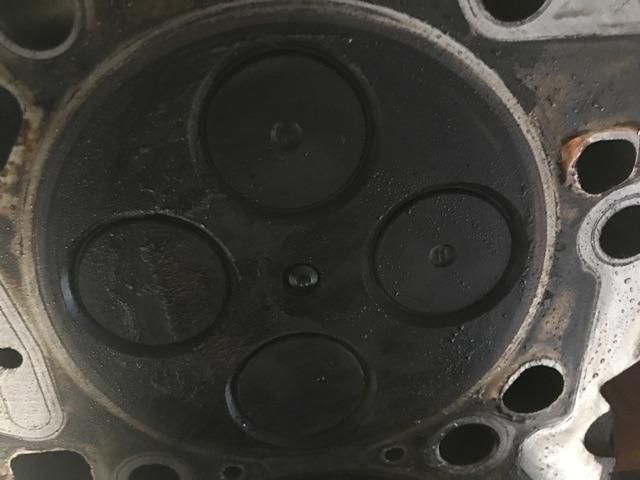 Being that the knock was up high and it was not the injector, we were pretty confident that it was the wrist pin. So, out comes the piston and this is what we find.