This is
@DAA
's fault. He didn't end up selling me his old 470, but I got the new truck bug while we were talking about it and I had to go shopping. I've been plotting on a nice 80-series for a while now, but there weren't any Land Cruisers or LXs on the market that worked for me. I've also been keeping half an eye on the Excursion market for about a year now, hoping for a sage and tan Limited with V10 and 4.30 gears in the right condition at the right price. That unicorn still hadn't shown, but this fellow was available up in Willard - relatively low miles, looking clean in the pics, and a couple thousand under NADA value. There was a buyer in front of me and I was sure I was going to miss it, but when he passed I dropped everything and drove up to Willard Saturday night to look at it. I liked it. We shook hands, and I brought it home yesterday afternoon.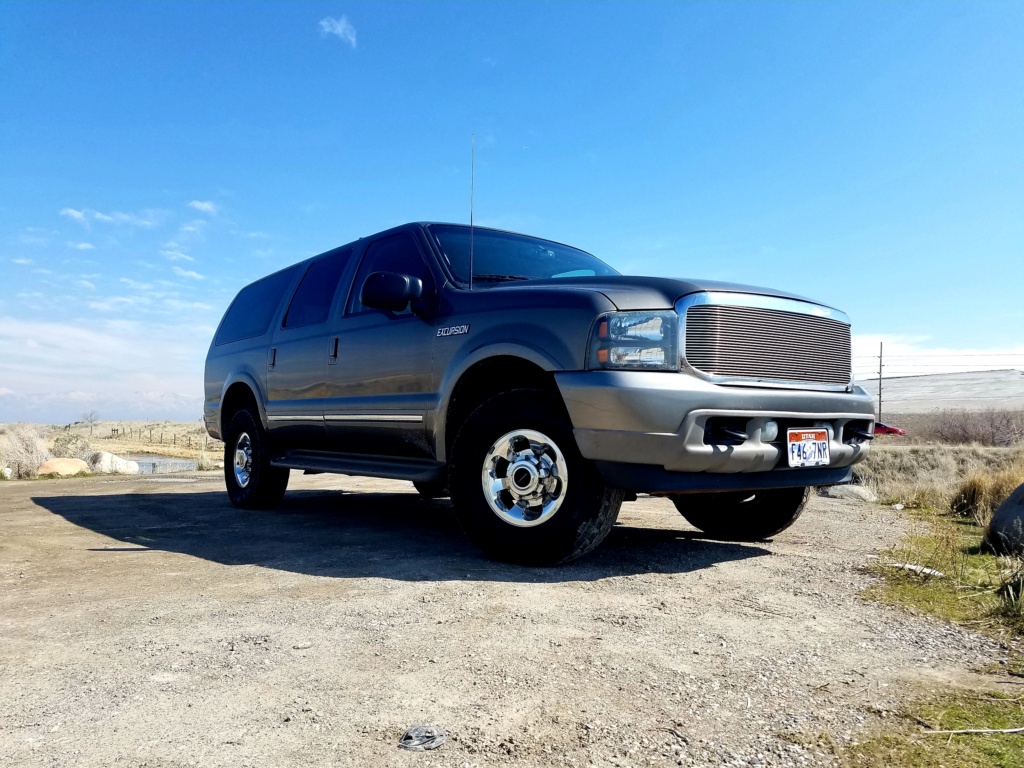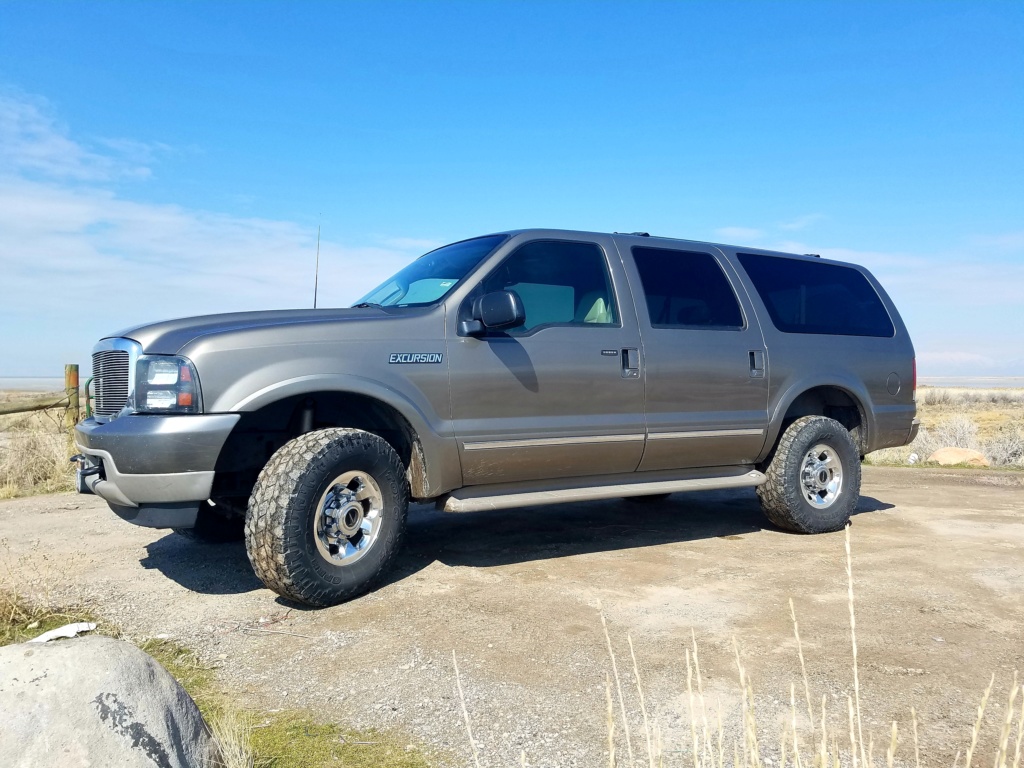 It's a 2003 Limited, V10, bone stock except for the blingy grill and headlights, but those might not last long. If I've learned anything from my previous trucks, I've learned that a) you're not going to leave it stock, of course you're not, don't be stupid and pretend like you are, and b) if you're going to build it up, you need to have a clear idea of what you're building for and how you're going to do it, or shit's gonna get real expensive real quick. So plans are still rough at this point while I get to know it and may change a little as I go, but it's going to look something like this:
Phase 1 - Make It Mine
Baseline all the maintenance - change engine oil and coolant, flush the brake lines, check trans fluid and diff oils, etc.
New battery - it's old and due for a replacement, so I'll pick up an AGM of some sort.
See if the 285/75r16s I have will fit (I expect they will, the worn 295/70s on there now look to have plenty of room).
Install a Scangauge (or maybe a tuner?).
Move the Icom over from the Broverlander, install a real antenna instead of the magmount I've been using.
Add load bars and throw the RTT on the roof.
Swap out the factory fogs for a pair of Rigid Dually's.
Replace the grill (and maybe headlights) with something a little more stock looking.
Get a decent head unit in it (seriously, who can live without bluetooth in this day and age?).
Phase 2 - Armor
Winch in front - I can't slip it behind the bumper and between the frame rails the way I did on the Broverlander, the radiator hangs too low, so this will take a little more work. I might go with a full bumper/bull bar this time, we'll see. I still want it tucked up nice and tight to maximize approach angle, which lets out a lot of the Superduty bull bars on the market, so this might need to be #drivewayfab. Whatever I do needs to be stout because I'm going to put a 15-16k winch on it. Right now I'm thinking Comeup might hit the sweet spot on price vs. performance.
Swingout on back - I could just mod the rear bumper
@frieed
and I made for the Supercrew. But I'm thinking dual swingout instead of the Broverlander's single swing, with the spare on one side and an external cargo box/water can carrier on the other side, with room for shovel and traction ladders and such somewhere. And maybe a ladder, for easier RTT access? Or maybe just a step in the hitch reciever. I would LOVE to tie the swingouts to the barn doors so they open together, I'm still working that part over in my head. The rear bumper might also incorporate a spot for an auxiliary winch, the 10k Engo from the Broverlander would work well there.
Rack on top - There should be room in front of (or behind?) the RTT for a small roof-width rack. It'll be low profile and used mostly for carrying firewood and other dirties that I don't wanna mess up the cargo area with. I might bolt a Hi-lift or shovel to it so everybody at the mall knows I'm legit.
Sliders, and maybe skids - the factory running boards/side steps will come off (sorry wife) to be replaced with sliders. I've got to take a good look underneath and see if anywhere is vulnerable enough to need a skid plate. I'm going to pay careful attention to the gas tank behind the rear axle - it's got a factory skid, but I might give that skid some help.
Awning - I'd like to add some shade/rain protection of some sort. Probably DIY, because the fancy awnings for sale are just too expensive for what they are.
Organize the cargo area - once the spare is out of the back of the truck, I'm going to put a shelf-thing in it's place. This'll carry and organize tools/recovery stuff, basic camping/sleeping gear, and have room for the little Mr Buddy heater for winter gallivanting. I'm thinking a slot for a little two or three gallon water dispenser would be handy too.
That'll make the truck about as heavy as it's going to get, probably put it on the bumpstops because the stock suspension is soft, which means it's time for
Phase 3 - Lift and Lock
Coil swap - this may not wait for Phase 3 if I come across a good donor. The leaf springs in front have to go, because this thing's turning radius is barely acceptable for driving around town. It'll be murder on the dirt (and a more pliant ride wouldn't be unwelcome either). So I'm going to source an axle and coil suspension (and steering?) from an '06+. I'm still researching the details, but I know enough to know it's going to happen.
Lift for 35" tires - I think 3" should do it, if I
trim
hack the fenders a little. I'd like for this to happen at the same time as the coil swap, for obvious reasons. I'll likely use B code Superduty springs in the back, modded to match whatever height the front ends up at. Air bags? Maybe. Shocks will be whatever is in the budget at the time, which likely means something low-rent like Ranchos or Bilsteins or something.
Gears and lockers - again, this will hopefully happen all at once with the coil swap. Ideally I'd find a donor truck with 4.30 diffs and an elocker and I could just throw both axles under as they sit. If not, I'll be tapping
@I Lean
for a regear, and probably looking into a Detroit or something similar, because it doesn't look like Spartan makes anything for the 10.5 and I don't want to mess with an air locker.
Maybe
an Ox Locker? We'll see.
...
That's the current state of things in my head. This is going to be a long slow process, because I don't have the time or money to do all that at once. But when I'm done, I'm going to be damned close to my dream gallivanting rig - big and sturdy enough to get the entire family or a group of friends and mountain bikes deep into the backcountry in comfort, room enough in back to haul several days of gear for the family or room for me to throw out a pad and sleep in it on solo trips, capable enough to tackle mild/moderate technical sections, able to self recover in most situations, able tow a camp trailer or friend's disabled rig without too much drama, and with plenty of road manners and creature comforts for the long highway miles between home and trailhead.
So that's the plan. Feel free to kibbutz or offer me free truck parts.
Last edited: